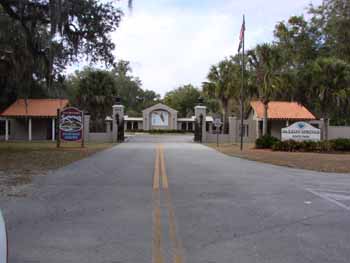 DeLeon Springs State Park
DeLeon Springs State Park
601 Ponce DeLeon Blvd.
DeLeon Springs, Florida 32130
Phone: 386-985-4212

View Larger MapThis was a wonderful day trip! What a refreshing adventure among the Live Oak trees that must be hundreds of years old! There is a circular spring area, where swimmers were enjoying the 72 degree spring fed pool. There was a snorkeling and scuba diving class going on which was interesting to watch. There were canoes and kayaks and paddleboats available for rent.
They had a visitor center which told the story of the native americans who used to make this area their home as long as 6,000 years ago!
Our absolute favorite part of this park is The Old Spanish Sugar Mill Restaurant where you and your family can cook your own pancakes on the built in table griddles. They brought us regular batter and some stone ground multi-grain batter in pitchers for us to pour onto the griddle. You can order strawberries, blueberries apples and more to go with your pancakes. They offer syrup, honey and molasses on the table. It was so much fun!! Bryan ate it all up, along with some frozen blueberries, and some sausage. The perfect little brunch. Take a look at the video below!