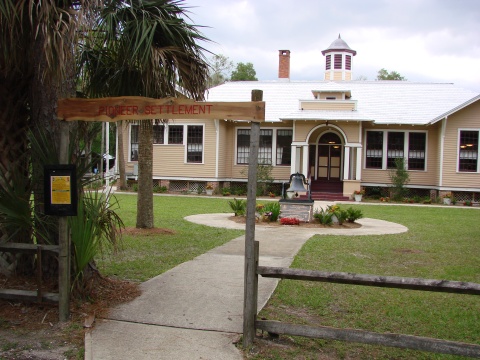 Spring Frolic at the Pioneer Settlement - Barberville, Florida
Spring Frolic at the
Pioneer Settlement For the Creative Arts
1776 Lightfoot Lane
Barberville, FL 32105
(386) 749-2959
www.pioneersettlement.org
Musicians and families travel from miles around every April to come to this very special musical festival that's called the Spring Frolic.
There are so many ways to participate in the festivities at this festival. You can bring your own instruments and sit in on some workshops throughout the grounds, learn how to flat pick, play a banjo, play the fiddle, increase your skills, learn some new tricks. These workshops are designed for all skill levels so if you are a beginner, you are very welcome to participate!
There are 5 performance stages packed with outstanding local Florida talent. Every 30 minutes the sets change, so if you stay for awhile, and walk around, you get a unique opportunity to visit all the stages and take in many different acts, all with unique stories, and flavors of Folk/Americana/Bluegrass music.
There are many fun things for children to do here! The kind folks who organized the festival built in some fun treasure hunt kinds of games. The first game is to find these musically decorated stones that are hidden all throughout the whole grounds. The second game is to hunt down these whimsical wooden fiddles that are dressed up and hiding all over the grounds. Such fun!
There is a very popular "Instrument Petting Zoo" inside the main school house building. The zoo is designed for every age, young and old to come and explore all the different instruments, touch them, experience them, learn how each one works, and sounds. My 5 yr old really enjoyed this room! His favorites were the accordion, the steel drum, and the zither. He pretended to write a zither song and was singing along to his zither playing, it was adorable! What a fantastic experience for young children to be welcomed into a place where the rule is: Hands On, as long as you are careful!
There is a very nice children's craft area, with face painting, and several different crafts that the kids can make, a hummingbird feeder, and a butterfly feeder, among other things. There were kids all over that booth the whole event!
Children's games like corn hole, ring toss, hula hoops, and more musical instruments to play were provided outdoors by The Music Coach who also had an instrument booth 386-775-8774
Contra Dancing, scottish dancing, irish dancing, clogging and more are ongoing throughout the whole festival indoors in the Main Building!
The Pioneer Settlement for Creative Arts is designed to keep the folk arts of days gone by alive by sharing these crafts and skills to the younger generations to appreciate all that went into living into the 1800's and learning just how far we have come today. Demonstrators volunteer their time during this festival to share their skills and knowledge of these folk crafts to visitors.
There is a live animal area with a donkey, miniature horse, goats, chickens, turkey, and a large peacock pen, to the delight of the kids and adults alike.
The food was great with some wonderful healthy choices, fruit yogurt granola parfaits, fresh fruit, hamburgers, hot dogs, fried fish dinner, biscuits and gravy, and more.
This festival is the best of it's kind I have ever seen, and I hope that you will visit it in April of every year.
Come see the festival video and pictures here:


Spring Frolic Pictures by Gail Carson

Come see the Festival Video Here:
Music by local Florida Artists added a local flavor:
Dennis Waldrop, www.homerthedulcimer.com
Just In Time, banjojunkie@cfl.rr.com
Rog Lee, www.roglee.com
Bardic Rose, www.bardicrose.com
Men of the House, www.menofthehouse.com
Brian Smalley, www.myspace.com/briansmalley
and various others, thank you for your musical contribution!

Spring Frolic at the Pioneer Settlement - Barberville, FL
Uploaded by pcgailc. - Music videos, artist interviews, concerts and more.
Barn Dance!




You May Also Love : Pioneer Settlement for the Creative Arts

You May Also Love: Pioneer Settlement Fall Country Jamboree


From Spring Frolic back to Home at www.northfloridafamilyfunguide.com