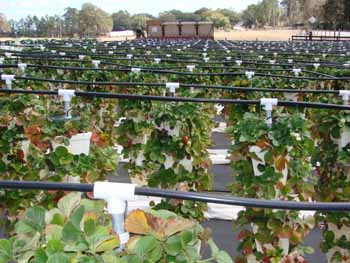 Vo-LaSalle Strawberry Patch
Vo-LaSalle Farms, Inc.
601 Johnson Lake Rd. DeLeon Springs, FL 32130386 985 0046
This place was a wonderful find, tucked away in DeLeon Springs. This family friendly farm was well designed, with clean rows of strawberry plants that were a delight to walk, and Bryan just loved to hunt for the perfect red berries!
We had a delightful day picking strawberries, and then we got a fun tour of their citrus factory. We learned what it takes to process the oranges from the tree, to the crate, into the orange bath, up the conveyor belt, through the orange shower and into the sorter to be bagged and sold at the market.
They also sell pick your own tomatoes, and herbs, and we bought some free range fresh brown eggs too! They had fresh honey, and other things there too at their little country store. We came away with a wonderful understanding of how citrus was harvested, and also a good feeling knowing we gave our business to a local farmer.
Check out the short video below to see some of the pictures of the day's adventure!