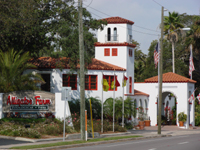 Alligator Farm - St. Augustine, Florida
The Alligator Farm
999 Anastasia Blvd,
St Augustine, FL 32080
(904) 824-3337
The Alligator Farm in St. Augustine has many interesting exhibits to get up close and personal with some very, very large and hungry alligators, and more!
The whole sanctuary, walkable in a few hours, is on a raised boardwalk with overlooks into the alligator ponds below.
In the spring you can find many nesting egrets that come every year to build nests and raise their families!
New this year is a Komodo Dragon! It is the largest lizard in the whole world! It was huge, and I was able to get some video of it sticking its tongue out at me!
Bryan and I really enjoyed our visit, as always, and even got the chance to see the animal trainer feed the alligators!
They have a children's playground area that is lots of fun, with large glass windows to peek into the exhibit next door.
This is a great learning adventure, and is a terrific place for the whole family to visit!
Click Here For Map



Click Here for Coupon for The Alligator Farm!



From Alligator Farm back to Home at www.northfloridafamilyfunguide.com