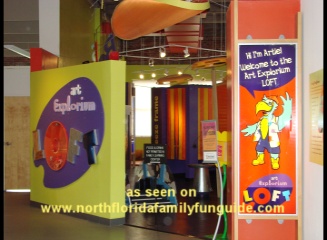 Art Explorium Loft at the Museum of Contemporary Art - Jacksonville, Florida
Art Explorium Loft - Museum of Contemporary Art
333 N Laura St
Jacksonville, FL 32202
(904) 366-6911
www.mocajacksonville.org
Art Explorium is the perfect name for this wonderful hands on art and exploration studio, located on the 5th floor of the Museum of Contemporary Art in Jacksonville, Florida.
Children of all ages will be encouraged to explore their creative side in this hands-on gallery.
This studio is packed with interactive art stations, each of them exploring the many different ways to create art.
There is a recycled materials station, that encourages kids to create their own funny scarecrow using recycled odds and ends of recycled household things of every shape and color.
There are stations that explore textures, shapes, abstraction, body movement, and more.
There is a reading tent, and a small library of art related books to choose from.
This Children's Art Studio helps kids look at everyday objects with a new eye, and encourages them to combine these objects creatively to come up with something new.
This would be a great place to bring a class, a homeschool group, or a mommy and me group for an afternoon of Art and Exploring, in the Art Explorium!
Come see a tour!
From Art Explorium Loft back to Home at www.northfloridafamilyfunguide.com