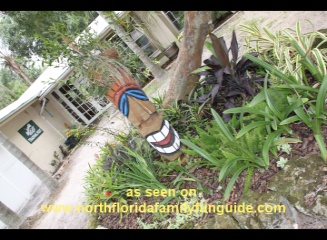 Big Cat Rescue - Tampa, Florida
Big Cat Rescue
12802 Easy Street
Tampa, FL 33625
813.920.4130
www.bigcatrescue.org
On a very populated road in a North Tampa neighborhood, you would never imagine, lives a Big Cat Sanctuary, that offers a permanent retreat to the most diverse population of exotic cats in the world.
This non-profit charity depends on revenues from tours and educational programs to fund the care and enrichment of over 200 big cat residents on over 40 acres of property.
Bryan and I went to visit the tigers, lions, liger, leopards, cougars, bobcats, lynx, ocelots, servals, caracals and more at this fascinating facility.
Big Cat Rescue is available for several types of tours. On Saturday morning, kids under 10 yrs old are welcome to visit for a private small group tour. Tours are at 9:00AM. Jeff Kremer hosted our tour, and he was wonderful, caring, and patient, and loves to explain everything you would ever like to know about the cats that live there.
For those 10 years and older you may be interested in the Big Cats Feeding Tour. For $50 a person, you can be 3 feet away from Lions, Tigers, Panthers, and more while they are being fed!
Big Cat Rescue produces an Annual fundraising event called "Fur Ball" which this year is Friday, October 9, 2009 6:30PM to Midnight.
This event will spotlight the new residents Freckles, Cookie, and Alex, the three tigers who were abandoned from Mississippi recently. The Fur Ball is a fun-filled way to thank supporters for another year, and to enjoy a gourmet meal, have fun at the custom made big cat casino table, and silent auctions to win a rolex watch, exotic international trips, and even a Jaguar xj!
Guests will wear "safari costume formal attire" with a costume contest too! Check out their website for more information and ticket prices. Looks like fun! www.bigcatrescue.org
On our way out we stopped at the gift shop which was packed with animal and safari type gifts!
We bought a really cool book that was very unique, where each page opened up to a different layer of anatomy of the tiger. Bryan Loves it!
I hope you get the chance to help support this fantastic organization, and help it to succeed!
Come see our tour! Special Thanks to Big Cat Rescue who provided some outstanding Big Cat photographs that helped to make this video interesting!
From Big Cat Rescue back to Home at www.northfloridafamilyfunguide.com