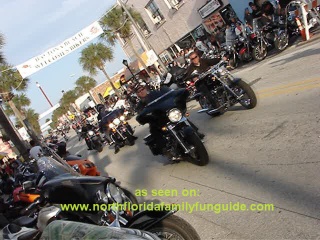 Bike Week 2009 - Daytona Beach, Florida
Motorcycles from around the whole country come to Daytona Beach at the end of February for Bike Week!
It is amazing to see the variety of motorcycles out there, and the sheer number of bikers that swarm the whole area.
It is a visual spectacle to be on main street and to watch all the motorcycles turn from Atlantic avenue onto Main Street, strutting their stuff, revving their engines, and having a good time.
It is a place to see and to be seen. Lots of food and revelry, live bands, curiosities, and good times can be found.
Bike week is free to see, however it did cost me $10 for parking.Bryan had fun seeing all the motorcycles and hearing their loud engines roar past him. He wanted to ride!
The hot spots around town are:
Destination Daytona, on US1 and 95, in Ormond Beach
US1 between 95 and Nova Road, in Ormond Beach
Main Street in Daytona Beach
and many more!
I saw so many license plates from so many different states, even Wyoming. This is the place to be at the end of February!
From Bike Week 2009 back to Home at www.northfloridafamilyfunguide.com