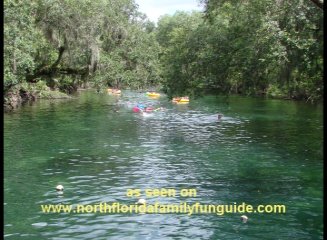 Blue Spring State Park - Orange City, Florida
Blue Spring State Park
2100 W French Ave
Orange City, FL 32763-9501
(386) 775-3663
www.floridastateparks.org/bluespring
Pack up a picnic basket with lots of goodies, bring the kids, suits and towels and head on over to Blue Spring State Park in the summertime for a wonderful family adventure.
Blue Spring is the largest spring feeding into the St.Johns River. The beautiful spring is also a designated manatee refuge during the cooler winter months. The spring stays a constant 72 degrees throughout the year, and the manatees gather in the spring to keep warm as the temperature outside drops. During the cooler months, there are no boats, tubes, or snorkeling allowed to provide a safe haven for the manatees.
During the summer, this park is very popular, and fills up to capacity on the weekends, so get here early! We viewed the campground area, and it was very nice. They have 51 sites,with water, picnic tables, grills, 27 of which also have electricity. They also have 6, two bedroom cabins! I found that the campground was located in a pine scrub forest, and the sites were very private and well spaced. I am looking forward to camping there soon.
Bryan loved to swim in the springs. They have stairs leading down into the cool, clear, pristine spring water. We saw people snorkeling, tubing, kayaking, canoeing, scuba diving, and swimming.
The color of the water is beautiful, the whole area is so picturesque. There is a boardwalk all the way down to the boil where the water comes up from the aquifer then all the way back up to the playground and the picnic area with a playground.
After the swim, we went for a nature walk, played on the jungle gym, and then went on a narrated wildlife eco tour!
The boat tour was two hours long, and took us up the St. Johns River. We learned all about the native plants and animals as we traveled, from our Florida Wildlife Tour Guide. We saw deer, alligators, ibis, a cormorant, turtles, osprey, and more! This was so much fun for both of us, I know you will enjoy it too.
The company is called St. John River Boat Tours, they have 2 tours per day 10am and 1pm. You can reserve your boat tour at: 407.330.1612, or 386.917.0724. www.sjrivercruises.com You can also charter one of their boats for weddings, or special events!
We had a wonderful day here at Blue Spring State Park, and hope to come back here soon to go camping!
Come take an eco tour:
From Blue Spring State Park back to Home at www.northfloridafamilyfunguide.com