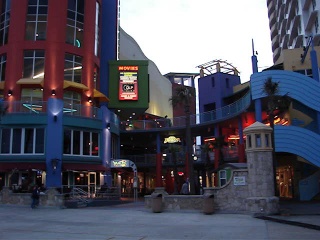 Bubba Gump- Daytona Beach, Florida
Bubba Gump Shrimp Co.
250 N Atlantic Ave
Daytona Beach, FL 32118
(386) 947-8433
If you are looking for a tasty seafood restaurant that is fun for the whole family, this is it! This restaurant's theme is all about the movie, "Forest Gump". The decor has all kinds of movie memorabilia and the waitresses weave the Forest Gump theme into their whole interaction with you.
Our waitress played a trivia game about how many movies Tom Hanks starred in. It was fun to see my kids trying to guess 30 films. I just absolutely love their hushpuppies, which have mahi-mahi, shrimp and corn inside them, and when combined with their special sauce is just wonderful. I also love the Run Around America sampler plate which has spicy chicken nuggets, hushpuppies, fried shrimp,hot artichoke dip and more. Yum!
They gave Bryan a very fancy light up cup with a strawberry slush inside, which kept him entertained while his food was prepared. He ate all his popcorn shrimp and more!
They even have a gift shop with fun Forest Gump themed tshirts, cups and unique items you won't find anyplace else!
A very fun family atmosphere and great food!
From Bubba Gump back to Home at www.northfloridafamilyfunguide.com