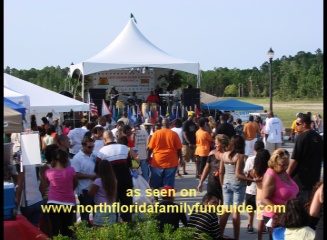 The Caribbean Festival of Palm Coast - Palm Coast, Florida - June
The United Caribbean Cultural Association of Palm Coast
Annual Caribbean Festival
Town Center Park, Palm Coast, Florida - June
http://www.caribbeanfestivalofpalmcoast.s5.com/
The Annual Caribbean Festival of Palm Coast is sure to delight your senses, with exotic flavors, colorful sights, and jammin' Caribbean rhythms. The bands play throughout the 2 day festival, with a variety of sounds representing SOCA, Calypso, Salsa, Reggae, Urban, Merengue and Steel.
Spread out along City Place Street at Town Center in Palm Coast, are booth after booth of cultural delights from the many nations of the Caribbean. Everyone comes together to celebrate the Caribbean heritage, with food, dance, music, and art.
There is plenty for the kids to do with several bounce houses and a pretend ride on bull to test your skills!
Marinated meats sizzle on charcoal grills, vendors busy filling orders of yummy Caribbean treats. Frozen Pina Colada's are served with a cherry on the top and a smile!
There are coconut vendors slicing off the top of the coconut husk just enough to pierce the inside coconut shell, then a straw is placed in the hole, as customers enjoyed the fresh coconut milk. Did you know there are two types of coconut you can buy? The kind in the grocery stores around here are the hard kind, where the meat of the coconut is very hard, and used for baking. The other type of coconut is the very fresh kind, and the coconut meat is soft and delicate flavored, with a texture like jelly.
I love to celebrate different cultures, and this festival made me feel very warm and welcome. Such friendly smiles, and generous warm hearts, and the music made everyone want to dance. The food was the highlight for me,as there was such a variety of international and exotic flavors and textures that you won't find anywhere else!
Come celebrate with the The United Caribbean Cultural Association of Palm Coast, in June, at the Palm Coast Town Center, and help them raise money for their scholarship program.
Come take a tour:
From Caribbean Festival of Palm Coast back to Home at www.northfloridafamilyfunguide.com