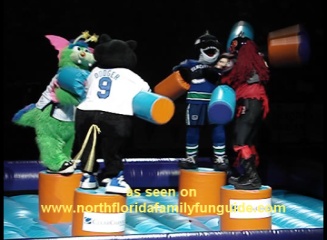 Celebrity Mascot Games 2009! Orlando, Florida
Amway Arena
600 Amelia St
Orlando, FL 32801
(407) 849-2558
www.mascotgames.org
Celebrity Mascot Games 2009!
Benefiting New Hope For Kids Charity in Orlando!
Celebrity Mascot Games is wild, wacky, goofy fun in gladiator style!! Participating Celebrity Mascots from all over the United States gather once a year to raise money for the New Hope For Kids Charity in Orlando. There were Mascots from Major League Baseball, NFL, NBA, NHL, NCAA and the Arena Football League!
This annual event attracts thousands of kids and parents to come and cheer on their favorite sports Mascots!
Mascots were divided into four teams and competed with each other in a series of gladiator games to find out who is the best Celebrity Mascot in the World!
Bryan and I enjoyed experiencing this, and the best part about it, to me, is that coming to this event taught Bryan that these mascots are not scary, but they are just puppets and they are playing games. So now, Bryan is not afraid of them anymore! Yay!!
The ticket prices were very reasonable, and all the proceeds go to a charity called New Hope for Kids, an Orlando Florida based non profit that helps grieving children and families cope with loss by death of a family member, and also helps kids with life threatening illnesses, by granting them a special wish. You can find out more about them here: www.newhopeforkids.org. Since 1992, Charity Mascot Games has raised over 250,000 for New Hope For Kids!
In attendance were: Albert and Alberta, University of Florida, Aubie, Auburn University, Bailey, Los Angeles Kings, Bucky Badger, University of Wisconsin, Billy Buffalo, Buffalo Bills, Dodger, Ft. Worth Cats, Fin, Vancouver Canucks, Globie, Harlem Globetrotters, Goldy Gopher, University of Minnesota, Herky the Hawk, University of Iowa, Junction Jack, Houston Astros, Knightro, University of C. Florida, Louie, St. Louis Blues, Lil' Red, University of Nebraska, Mike the Tiger, Louisiana State University, Purdue Pete, Purdue University, Rameses, University of North Carolina, Raymond, Tampa Bay Rays, Sabretooth, Buffalo Sabres, Sebastian, University of Miami, Stanley C. Panther, Florida Panthers, Stormy, Carolina Hurricanes, Stuff, Orlando Magic, and Thrash, Atlanta Thrashers!
Come see the wacky highlights video of the Celebrity Mascot Games 2009!!
From Celebrity Mascot Games back to Home at www.northfloridafamilyfunguide.com