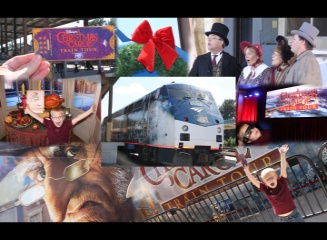 Christmas Carol Train Tour - Jacksonville Amtrack - Jacksonville, Florida
A Christmas Carol Train Tour
www.christmascaroltraintour.com
Hosted in Jacksonville on October 20, 2009, the Christmas Carol Train Tour thrilled thousands of families at this North Florida Destination.
This is part of a major tour across the United States until November 6th, 2009. Check the website for details on upcoming tour stops near your city.
This 5 car train is full of interactive fun, teaching kids and their parents all about the upcoming movie , A Christmas Carol. Each car shares different aspects of the making of this animated classic brought to the screen in a way that has never been done before.
At the end of the 5 car tour, everyone can visit the portable 3-D theater that is set up, and view a 3-D preview of A Christmas Carol.
The whole event is free!
Come see our tour, and I hope you get the chance to see this soon in your city!


From Christmas Carol Train Tour back to home at www.northfloridafamilyfunguide.com