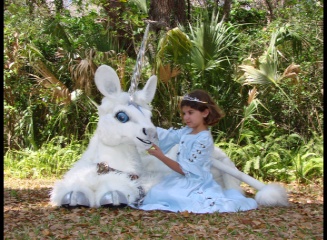 Creatur-iffic Parties - Palm Coast
Creatur-iffic Parties
creaturiffic@hotmail.com
Phone 386-338-1141
www.creaturiffic.com
Explore something completely unique and fun for your child's next birthday party or special occasion. A real live Unicorn named Mia!
Creatur-iffic Parties is a new, one-of-a-kind service in Flagler County, that is sure to delight all ages. Wouldn't your little princess love to have a living unicorn come to her birthday party? You should see how people flock to this Unicorn when she is out in public!
Alexia the Princess recently brought her live unicorn, Mia, to an enchanted, magical forest, and I was lucky enough to be there with my camera, to capture all the action!
Mia saw her reflection in the water, and was so delighted! She looked into the pond and 3 giant fish came up to her to say hi!
I hope you get the chance to meet Mia and Alexia the Princess at your next party!
Come take your first look at a real live Unicorn!