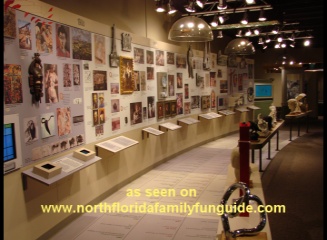 Art Connections - The Cummer Museum of Art and Gardens - Jacksonville, Florida
Art Connections - The Cummer Museum of Art and Gardens
829 Riverside Avenue
Jacksonville, Florida 32204
904.356.6857
Art Connections at the Cummer Museum of Art and Gardens is a hands-on children's art museum. It has high quality interactive electronic stations to encourage children to explore the world of art and creation.
There are some fascinating electronic exhibits that use the latest in computer technology to let kids play with their imaginations.The best part is that kids can have a fascinating virtual art experience with no messy cleanup!!!
Bryan's favorite exhibit was the dancing wall, where he danced in front of a huge video wall, and his image was blended with computer generated effects machine, which transformed his moving image into wild colors interesting designs.
They also had a display with several pieces of art, and a computer monitor above each piece, that when activated, the artist personally shares the story of how they made the piece of art, the steps they took to create it, and what the piece meant to them. I thought that this was a very interesting way to reach children about the concepts of creating a work of art.
Everything in this gallery is child sized, touchable, with lots of interactive electronics, buttons to push, and hands on activities to share.
Lunch at the cafe' was very good, fresh, and healthy.
Also at this location is The Cummer Gardens. This gorgeous garden area is perfect for an afternoon stroll. They have ponds, fountains, and paths leading to beautiful views of the St. John's River.
What a wonderful setting for the family festivals, and musical events that are held here in these gardens.
Come take a tour!
Here is the Garden tour: