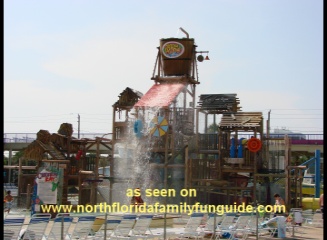 Daytona Lagoon Family Fun Center, Daytona Beach, Florida
Daytona Lagoon
601 Earl Street
Daytona Beach, FL 32118
(386) 254-5020
www.daytonalagoon.com
The Daytona Lagoon Family Fun Center in Daytona Beach is a huge mega entertainment center for the whole family! There are so many things to do here, indoor and outdoor, and they have a huge outdoor mega waterpark!
Indoors they have a well-maintained video arcade with fun games, many new that I have never seen before, (like the unique drumming challenge game, which Bryan really loved), a 25 ft. Rock Wall Challenge, an 1972 antique Theel Carousel, and a 3,000 sq. foot Lazer Runner Lazer Tag Challenge!!
Outdoors they have 3 different 9 hole miniature golf courses, a Go-Kart track for one or two riders, a giant swing attraction called the Phoenix, which swings you up to 100 ft in the air with 4G forces, and a very popular water park with giant tubes, slides and a wave pool. They also have a lazy river, which circles around the huge children's water playground called Castaway Bay.
Castaway Bay is Bryan's absolute favorite thing to do at Daytona Lagoon. This outdoor water climbing, sliding, play structure is packed with climbing nets, fun water jets, sprinklers, nozzles, and 4 intermediate water tube slides safe for kids! They also have a huge bucket that dumps 1000 gallons of water every 2 minutes on the whole area.
I really liked the lifeguard presence all over the water park area, especially at Castaway Bay. They kept kids safe, so everyone could relax and have a splashing good time!
There are so many good deals available at Daytona Lagoon, such as Family Nights on Wednesdays from 5pm - 10pm. Entrance to the waterpark is only $8 per person. Music and interactive water games hosted by a local DJ added to the family fun.
The Wave Riders Grill on the outside and the Paradise Grill on the inside keep the pizza and burgers hot, and the soft drinks, ices and ice cream cold for hungry visitors.
Gilligan's Sports Bar & Grill located on the 3rd floor of Daytona Lagoon, is a great place for adults to cool off, have dinner, and enjoy some music and dancing. It has a full service bar, 10 Hi Def televisions, 3 billiards tables, a private meeting room, and a huge observation deck overlooking the waterpark.
The Daytona Lagoon Family Fun Center, is an outstanding location for a birthday party, up to your corporate annual party. They have the shaded facilities and friendly personnel to accommodate a group of up to 2,000 and more!
During October Daytona Lagoon transforms their 3,000sq ft Lazer Tag room into a black light and fog haunted maze filled with ghastly ghouls and creepy cretins. Check out their website for dates and times.
Bryan and I had a very nice time here at Daytona Lagoon. I love the fact that you can do so many fun things all at one location. There is always something fun to do with your family or special group at Daytona Lagoon!
Come see a tour:
From Daytona Lagoon back to Home at www.northfloridafamilyfunguide.com