floridafun book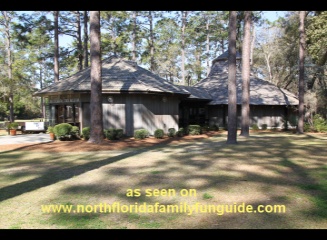 Forest Capital Museum State Park - Perry, Florida
Forest Capital Museum State Park
204 Forest Park Drive
Perry, Florida 32348
(850) 584-3227
Forest Capital Museum State Park has a diverse set of attractions, including a historical cracker settlement to walk around, an indoor museum with dioramas telling the story of the turpentine industry and it's importance to Florida.
There is also a horse arena for equestrian events, a beautiful stage for hosting music events, such as the Florida State Bluegrass Festival in the Spring, and the Pickin' in the Pines Festival in the Fall.
Camping is allowed, and there is an indoor basketball court, bleachers, and a stage, and a large kitchen/cafeteria building perfect for chili cookoffs and pancake breakfasts.
There are plenty of things to do year round here, but the best thing is to take in the beauty of the surrounding area, enjoying the towering pine trees, and learning all about the foresting industry in Florida.
Come see a tour of the museum:


From Forest State Capital Museum State Park to Home at www.northfloridafamilyfunguide.com