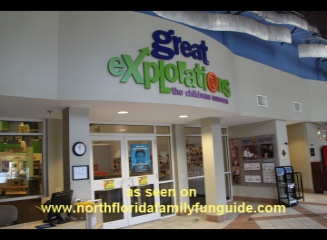 Great Explorations Children's Museum - St. Petersburg, Florida
Great Explorations Children's Museum
1925 Fourth Street N.
St. Petersburg, FL 33704
Phone: 727-821-8992
www.greatexplorations.org
Great Explorations Children's Museum, is packed with fun, enriching, engaging, and educational stations, that will amaze and entertain your family for hours!
Hands-on learning is encouraged with fun exhibits on two levels, like make your own pizza shop, Publix pretend shopping center, a pick-your-own orange grove, a pretend cow milking station, build your own slot car racing station, fire engine pretend play station, and more.
Bryan LOVED this place, there are so many different kinds of activities to choose from. He really enjoyed the building stations, the slot car building station, and the robot building station, he loved making pretend pizzas, and the pretend doctor's office!
I loved the interactive fun with the dance revolution game, and the green screen demonstration, where he was paddling in a boat, in shark infested waters!
The Tree House is a visually stunning piece of work. Kids climb up the stairs and inside, learn all about construction with a child-sized front-loader, crane, and more.
The kid-sized stage is perfect for the many interactive events they stage, such as dance time, percussion time, karaoke time, and even hands on animal demonstration! We experienced the blue tongued Skink, it was interesting!
Everywhere you turn you will find more interesting things to discover, way to go Great Explorations, this one is one of the best we have seen!
Come see a tour!:
From Great Explorations back to Home at www.northfloridafamilyfunguide.com