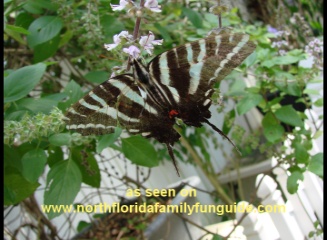 Greathouse Butterfly Farm - Earleton, Florida
Greathouse Butterfly Farm
20329 State Road 26 East
Earleton, Florida 32631-6807
(866) 475-2088
www.greathousebutterflyfarm.com
If you are seeking inspiration from nature there is no better place to go than Greathouse Butterfly Farm. This is the perfect family friendly learning adventure, and your kids will love it!
This is the perfect living science field trip for schools, home schools, groups, clubs and more. They have expanded their educational program to include a hands-on presentation of bugs, and to learn all about safe bugs, and not so safe bugs, and how they are beneficial to us.
This fully operational working butterfly farm offers daily butterfly life cycle tours for families and groups at 10am, 12pm, and 2pm daily Mon - Sat, Sunday at 12pm and 2pm.
The butterfly tour consists of an interactive hands-on children's demonstration all about the various parts of a butterfly and how they work. Bryan loved this. Our tour guide, Starr, was very child-centered and wonderful, and really reached my little guy, and he learned something!
I, too, learned so much during this presentation! I didn't know that butterflies taste with their feet, and smell with their antennas! It was a whimsical, fun, pre-tour presentation!
Next, your tour guide takes you through the grounds of the butterfly farm, viewing the various stages of the life cycle of the butterfly, beginning with the plants that you can plant around your home that will attract butterflies. You will get the chance to see, up close and personal many types of caterpillars, chrysalises, and butterflies of many varieties. You can see the production team hard at work in the caterpillar laboratory, and butterfly barn, taking care of their next butterfly generation.
The Greathouse Butterfly Farm ships butterflies and pupae overnight to destinations all over the United States! You can order butterflies for a release party to celebrate any occasion! They are safely packed and shipped to your door! They even have traveling butterfly exhibits available for your local festival!
The gift shop inside main building offers a fantastic selection of one of a kind butterfly themed gifts you won't find anyplace else. You can buy butterfly kits, complete with a caterpillar, and butterfly food, books, t-shirts, jewelry and so much more!
Several times a year the Greathouse Butterfly Farm has their own festivals, such as the Spring Butterfly Festival in April, or the Art and Music Festival in the summer.
If you only get one chance a year to see this magnificent place, then you may want to choose the second Saturday in October, (check dates by phone) for their VERY POPULAR Monarch Festival. Every year, without fail, this farm is an important stop for thousands and thousands of traveling Monarch Butterflies migrating from Canada all the way for thousands of years. They celebrate this annual migration with a fantastic Monarch Festival. Music, food, fun, crafts, games, live butterfly releases, and more are enjoyed by all as they celebrate the Monarch Butterfly!
We can't wait to come back to the Monarch Festival!
Come see a tour of the farm:
From Greathouse Butterfly Farm back to Home at www.northfloridafamilyfunguide.com