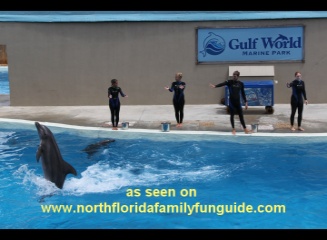 Gulf World Marine Park - Panama City, Florida
Gulf World Marine Park
15412 Front Beach Rd
Panama City, FL 32413-2502
(850) 234-5271
www.gulfworldmarinepark.com
Gulf World Marine Park offers some very interesting shows here that are different that other places and some cool interactive programs designed to get you closer than ever to your favorite marine animals!
We loved the All American Dive Team show! It was funny, whimsical, and death defying, capturing even a 4 year old's attention!
The Dolphin show was interesting and fun. Dolphins leapt out of the air reaching high into the sky for all to see and marvel at their athleticism.
The hands-on petting area with stingrays was very popular with Bryan, and he made sure that everybody there knew that they took the stingers off of the stingrays so they can't sting anybody.
I was impressed by the well kept, gardens, where the parrots, and alligators lived, and by the huge indoor area housing flamingos, more parrots, with indoor pond and river landscaping. The designer did a great job!
The California Sea Lion exhibit was easy to access, and was easy to see the animals frolicking in the water.
I loved the Coral Reef Theater's aquarium, housing some very interesting sea creatures, especially the Loggerhead Turtle, who loved to watch us as much as we loved to watch him!
We missed the Magic of Noah Wells, I really wish we would have stayed long enough to enjoy this show!
Gulf World has some neat ways to participate with the animals including a Swim With Dolphins Program, and a Trainer For A Day Program. They also accommodate large groups, and offer summer camp programs.
This was a great experience! Hope to be able to visit again soon!
Come see a tour!:
From Gulf World back to Home at www.northfloridafamilyfunguide.com