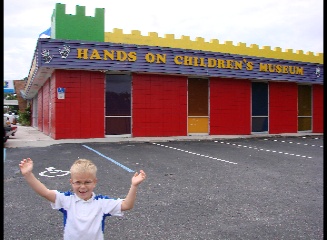 Hands On Children's Museum - Jacksonville
Hands On Children's Museum
8580 Beach Blvd
Jacksonville, FL 32216
(904) 642-2688
www.handsonchildrensmuseumjax.com‎
The Hands On Children's Museum in Jacksonville is a fantastic learning place for kids 0 to 10 yrs old!! With its amazing collection of exhibits, it will take hours to properly go through everything there is to do here! I highly recommend an annual pass, it's that good.
This place is filled with interactive, educational, engaging hands on stations based on real world scenarios, that really help you explain how the real world works to your child.
The major exhibits are as follows:
A Veterinarians office, where you can choose a stuffed animal to nurse back to health, with stethoscopes, weights and measures, microscopes, xrays, and more.
A Sheriff's Office with a dispatch station, radio transmitters, a child sized state trooper car, a voting booth, and more.
A Winn Dixie sponsored grocery store with several isles of pretend packaged food, dairy, frozen, fruits and vegetables, with real cash registers and check out stations, and more.
A Theatric Stage and a dressing room full of play clothes, hats and shoes to act out a play, and more.
A Puppet Theater, with 30 or more puppets for kids to act out a story with the characters.
A Post Office, where you can go through the whole process of writing a letter, putting a stamp on it, mailing it, then the postmaster retrieves it, and sorts it , and the mailman brings it to the proper address and more.
A Hands On Kid's Bank, where kids can pretend to be bank tellers, loan officers, there are calculators, and forms and stock market prices, loan amounts and more.
A Train Depot and Station, with 3 major train tables, a wooden climb on train locomotive, railroad signal crossing signs and more.
A Fire Engine Station, with real firemen's clothes, boots, hats, a stuffed dalmation, a pretend fire hydrant and more.
A Wheelchair Basketball court, with real wheelchairs, and basketball hoops. Helps kids learn about wheelchairs and how they work, and sets the stage for explaining how some children need to use them. Then have fun trying to use your arms only to play basketball. De-stigmatizes disabilities.
A nice sized play structure and ball pit..
A nice sized First Adventures play room filled with toys and puzzles and a pretend kitchen for those 3 yrs and under.
This place is amazing, and such a joy to participate in all the fun with my little one.This would be an awesome place for a birthday party or a group gathering.
At the entrance of the museum is a small store filled with interesting educational toys and t-shirts that all go to support this amazing place.
They have plans to expand this remarkable facility in August of 2009, to include an entire second floor and a back room for more parties, a Dinosaur Dig, an Air Traffic Control Tower Center and more.
Kudo's and high praise for the owners and financial supporters of this wonderful children's learning wonderland.
Come take a tour!