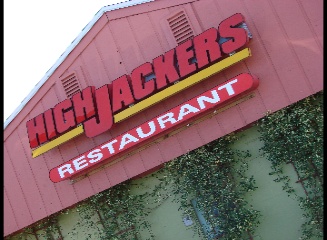 Highjackers Restaurant - Palm Coast
Highjackers Restaurant
202 Airport Road
Palm Coast, FL 32164
386 586 6078
Great food and a fun atmosphere for kids and adults alike, what a great place to visit!
Located right next to the Flagler Airport, and diners can watch small planes take off and land right at their tables. They have a wonderful outdoor patio seating area with a nice jungle gym on sand for kids to play on.
In the summer they have live bands come and play outdoors on their little corner stage, with tiki lights lit.
The food is really delicious. Don't miss the blackened grouper sandwich, or the greek chicken wrap, or the steak kabobs, YUM!
Love this place and what a great setting, kids are happy, food is great, life is good! Come to Highjackers!