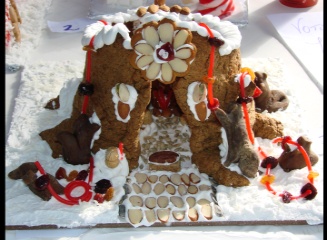 Mr. Squirrel's Holiday Nut House1st Place Winner 2008
Come see the details of Mr. Squirrel and his family as they decorate their tree house for the holidays!
Music by Gail Carson
Holiday In The Gardens - Washington Oaks Gardens State Park, Palm Coast, Florida
Holiday In The Gardens - Washington Oaks Gardens State Park, Palm Coast, Florida
6400 N Oceanshore Blvd
Palm Coast, FL 32137-2415
(386) 446-6780
Saturday, December 12th, 2009 9am to 4pm
This is a GREAT Annual Event for families and children! Boy Scout Troop 270 will be there again, helping with the arts and crafts, and the children's games. There is so much to do here, and Starbuck's will be there giving away free coffee and hot chocolate!
Come join me in the Gingerbread Contest and let's see what you got!
From Their Website:
HOLIDAY IN THE GARDEN'S
Date: December 12, 2009 9:00 a.m. - 4:00 p.m.
Description: "Santa's Garden Celebration".
Children may share their holiday wish list with Santa and Mrs. Claus in the Gardens.
For a nominal charge, the Friends of Washington Oaks will offer a souvenir photo with the Claus's.
"Santa's Playground" will include activities for children suc ad hand's on arts and crafts and game section.
Starbucks Coffee will be giving out complementary hot chocolates and peppermint white hot chocolates;
Pizza by the slice will also be available for purchase.
This year we will be having a Gingerbread house contest for all ages! Your Gingerbread house will need to be dropped off at the park between the hours of 8:00am and 9:30am on December the 12th, and remain on display until 4pm. Prizes will be given including a "Mrs. Claus's Choice" award. To register please call Mark Giblin at 386-446-6783 or mark.giblin@dep.state.fl.us.
Other activities include the Friends 2nd Saturday plant sale, food vendors, programs including wreath & ornament making and live entertainment throughout the day.
Fees: Fees waived with a donations of toy and non-perishable food items which will be collected at the gate.
Contact: Mark Giblin at 386-446-6783/mark.giblin@dep.state.fl.us
Come see a little video promo:


From Holiday In The Gardens back to Home at www.northfloridafamilyfunguide.com