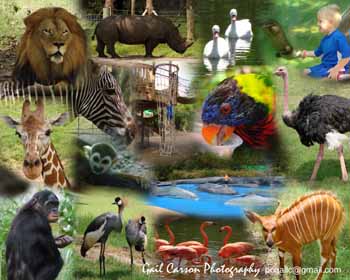 The Jacksonville Zoo and Gardens - Jacksonville
Jacksonville Zoo and Gardens
370 Zoo Parkway
Jacksonville, FL 32218
(904) 757-4463
Hours
Mon - Fri: 9 a.m. - 5 p.m.
Sat - Sun: 9 a.m. - 5 p.m.
Summer Hours
(March 7 - September 7)
Mon - Fri: 9 a.m. - 5 p.m.
Sat - Sun: 9 a.m. - 6 p.m.
Admission
Adults: $13.00 (13 and up)
Seniors: $11.00 (65 and up)
Children: $8.00 (ages 3 - 12)
Children under 3: Free
The Jacksonville Zoo and Gardens is one of our favorite ways to spend a sunny day here in North Florida. Such a nice, well kept sanctuary for so many interesting animals. There are beautiful gardens throughout the park. Something is in bloom nearly any time you visit.
Take a train ride around the park to see Rhinos, Elephants, Giraffes, and more! The storks were busy nesting in a huge live oak tree. What a sight!
The zoo has some great new things to discover , like the asian gardens, with a koi pond, waterfall, children's spray garden, and a komodo dragon. They also have some kangaroos, and some new lions.
I was able to get some good shots of the Jaguar, and the Florida Panther, and more on our visit recently. The flowers are beginning to bloom, you can really tell that spring has come.
There are many fun things for kids to do here. Don't forget the bathing suits and sunscreen, as they have a fantastic marine life themed splash park area that runs from March 20th through September. Large life sized painted cement statues of a blue whale, manatees, dolphins, and sea turtles, swim in a very large sponge base splash area.
The petting zoo, otter display, and squirrel monkeys, and the hands on tree fort and jungle gym, are sure to please the kids. Next door the kids can take a ride a very special wildlife carousel for $1.50.
The giraffe display here is the best I have ever seen. It ramps up to a high deck platform, and the giraffes come up to be petted and fed. You can buy some giraffe food for a minimal cost.
They also have a traveling marine exhibit, featuring stingrays that you can pet, for an additional $3.
The Lorikeet exhibit is one of our favorites, where you can buy a little cup of nectar for $1 and feed these beautiful birds. They come right up to you, and perch on your hand, shoulder, even your head!
Beginning in April, I expect to see the new butterfly garden in full bloom and lots of butterflies coming to visit!
Park hours are 9am to 5pm, get here early, as there is so much to do, the day just flies by and before you know it , it's closing time!
$2 off Coupon to The Jacksonville Zoo and Gardens