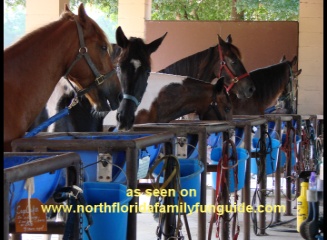 JNB Horse Haven Farm - Lady Lake, Florida
Jnb Horse Haven Farm
22651 SE Highway 42
Weirsdale, FL 32195
(352) 753-4756
www.jnbhorsehavenfarm.com
JNB Horse Haven Farm is a great place to take your family horseback riding! They have been in business for over 25 years, and are seasoned professionals.
Whether you are a beginner, or a seasoned pro, this facility can accomodate any skill level!
This is the only place in Florida where they will allow small children to ride with their parents on the horse together in the saddle! This is a very comforting experience for little riders for their first time on a horse! Helmets are available to protect kids just in case. Safety is #1 consideration at this farm!
Most of the horses here are Tennessee Walking Horses or crosses, and have Very Smooth gates, which makes it very easy for young and old riders to have a very comfortable, smooth, enjoyable experience. The horses here have been rescued at auctions and other places and have been rehabilitated and are now healthy and happy. These are gentle, well mannered, grateful horses! You can tell the horses are being well cared for and loved.
I liked how they had a 5 step stairs to make it easy for young and old to get onto their horse, The facility was very clean, and is filled with caring staff who will help you make your experience there, the best.
JNB Horse Haven Farm Services include:
*Morning Trail Rides 9 & 11AM*Customized Trail Rides 1 or 2 hours long.*Solo & Small Groups welcomed*Horse Rescue & Rehab Classes*On-site Reference Library*Western hats and more are available*Apprentice and Volunteering Opportunities*Gift Certificates Available
NEW PROGRAM
JNB Horse Haven Farm is now offering Therapeutic Horsebackriding, through a brand new program called Rescued Horses Assisting People (RHAP). This program offers individuals with special needs,equine facilitated therapy and activities, that are proven to be beneficial.
Rescued Horses Assisting People are looking for Angels who have the means to gift the program either monetarily or with services to help develop and grow this new 501c-3 program. Please call 352 821 4756 or 1 800 731 4756 to find out how you can help and be an Angel for the RHAP Program to help kids with disabilities!
JULY 5th 2009
Fundraiser for Rescued Horses Assisting People (RHAP) Program. Free food * Raffles * Gifts * and more! Call for more information! Seeking Sponsors and fundraising ideas now.
We had a very enjoyable visit, and hope to come back real soon!
Don't forget to call ahead and make reservations so that they can prepare for your visit!
352-821-4756 352-753-4756 1-800-731-4756
Come see our tour!