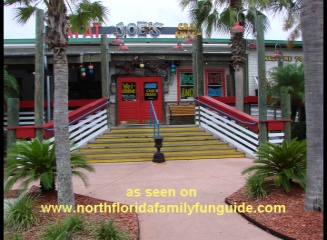 Joes Crab Shack - Sanford, Florida
Joe's Crab Shack
4659 W State Road 46
Sanford, FL 32771-9219
(407) 323-0934
www.joescrabshack.com
At Joe's Crab Shack, I think you will find the perfect combination of a family friendly atmosphere,fantastic seafood dishes, and a fully stocked bar serving your favorites!
There are 9 locations throughout Florida with more popping up all the time! Joe's is one of the largest, most-successful seafood restaurant chains in America. They specialize in crab, and seafood, but also check out their salads, burgers and sandwiches, steaks, chicken, pastas and a wide assortment of beverages too!
We loved our experience here. It has a very laid back, casual, fun,whimsical decor, happy and friendly staff, and even Joe's Crab Shack t-shirts and other merchandise for sale.
If you crave a night out with your little ones, but don't want to hire a babysitter, come to Joe's and eat on the deck. The kids can have a blast on the fenced-in, safe, jungle gym playground set in sand, immediately in full view of your table so you can keep an eye on them. What a joy to be able to have a few moments enjoying some peace and conversation before your meal arrives, while the kids have fun on the playground too!
The snow crab legs that we enjoyed were hot, fresh, and full of flavor. YUM!
At any time expect the music to crank up, and people to start dancing right in the aisles, even on the tables. Bryan had a great time gettin' down with his server!
We are already planning our next visit. I can't wait to try one of their buckets, and a frozen margarita!
Great Restaurant!!
Come see a tour:
From Joes Crab Shack back to Home at www.northfloridafamilyfunguide.com