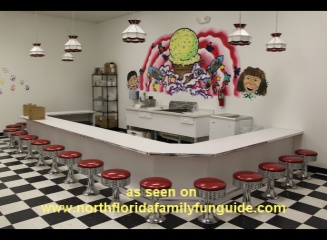 Little Scoops Ice Cream Parlor and Party Place - Fleming Island, Florida
LITTLE SCOOPS 1810 Town Center
Blvd Unit 10 Fleming Island, Florida
32003 904-215-4411
http://www.littlescoops.com/fleming_island/98.htm
This is the cutest party concept ever. Little Scoops is a child sized ice cream parlor for kids to come in and make their own sundaes, and play in their play room.
Their party room can be rented out for so many different kinds of activities!!!!!
* 50's Parties * Beach/Luau Parties * Speedster * Military Parties * Pajama Parties * Pirate Parties * Princess Parties * Superhero Parties * Arts & Crafts Parties * Tie Dye Parties* * Wii
and MORE!
Day Care, Homeschool, Scouts, Sports Teams, and Mom's Groups can schedule an Ice Cream Social, that includes a 30 minute play time in their play room, with the parachute, plasma cars, basketball, hula hoops, tunnels, and more, then make your own sundaes, for only $5 per person!
We had a fantastic time, and I hope to be back for one of their 50's dance parties! They have dress-up clothes and accessories for the kids, and party coordinators make sure everyone has a great time.
You can even drop in and enjoy a make your own sundae and play in the playroom!
Bryan had so many choices for toppings on his make your own sundae, he was in kid heaven!
They also serve pizza, hot dogs, popcorn, slushes, and more!
For more information check out their website for the whole "scoop"!
This place was so much fun!
Come see this tour!:


From Little Scoops back to Home at www.northfloridafamilyfunguide.com