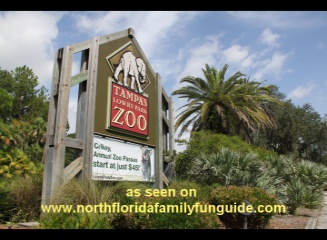 Lowry Park Zoo - Tampa, Florida
Lowry Park Zoo
1101 W. Sligh Avenue
Tampa, FL 33604
(813) 935-8552
www.lowryparkzoo.com
The Lowry Park Zoo is a zoo and an amusement park all together. Maybe they should call it a "zoomusement park"! This zoo has it all, and is easily accessible for the smallest of visitors.
I really appreciated that they have special mommy and child private areas for nursing and changing, away from the crowds. Thank you on behalf of all nursing mommies.
They have several splash zones perfect for cooling off on a hot summer's day too. I liked the rustic colors and features of the splash areas, which fit in nicely with the zoo motif.
Bryan's favorite area was the Wallaroo Station Children's Zoo. After we purchased an unlimited wristband, he could ride the Tasmanian Tiger roller coaster to his hearts delight. The other rides he loved, were the pony ride, the safari ride, the wild animal carousel, and the Skyride was the ultimate favorite, even though I white knuckled it the whole way through, ugh! I am so afraid of heights! The Gator Falls Flume Ride is for kids 6 and over, unless accompanied by their parents.
This zoo is full of interactive ways to see the animals. We loved the Bushland Budgies, a small accessible parakeet aviary where you could feed the birds with peanut butter and birdseed on a stick.
They have a petting zoo with llamas, goats, and sheep, and a very cool round koi pond with peek-a-boo windows to see them swim by. Good job!
We ate lunch at the Tolson's bbq stand, and had some bbq chicken and fixings, and it was really delicious!
My favorite part of the whole zoo was the Manatee and Aquatic encounters area, where they had an above ground viewing area, then they also had an underground viewing area too! I have never seen such happy manatees before! They were rolling around, stretching, and flapping their flippers, playing with each other, it was delightful. Then, like a bunch of sleepy water puppies, they sank into the sand and all fell asleep in a heap!
I loved the Orangutan and his blankie, he loves to throw it over his head and peek out underneath it. I also loved to watch the two white tiger brothers wrestle like little kittens. Adorable.
This zoo offers so many educational opportunities too, they even have a pre-school, kindergarten, scout activities, birthday parties, and sleepovers!
Another uniquely interesting event here is the Fisher-Price PlaySpace Weekend September 19-20 from 10 a.m. – 4 p.m., where they set up a super-sized play area filled with the coolest new toys from Fisher-Price! What a nice idea and great cooperation between corporate sponsors and the zoo!
We had a great time, and tried to visit every area of the park. I cant wait to come back another time for more adventures!
Come see a tour!:
From Lowry Park Zoo back to Home at www.northfloridafamilyfunguide.com