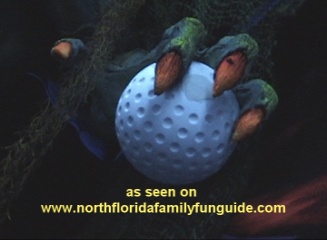 Monster Mini Golf - Winter Garden, Florida
Monster Mini Golf
1297 Winter Garden Vineland Rd (Rte 535) Suite 130
Winter Garden, FL 34787
Phone: 407 614-4688
www.monsterminigolf.com
Monster Mini Golf is whimsically creepy and not too spooky, air conditioned indoor 18 holes of miniature golf and more! Lots of arcade games , and games of skill, an air hockey table, two large spooky party rooms,snacks, and more!
This was so much fun, we loved the animatronic monsters, that would occasionally startle the unsuspecting golfer as they passed by. We also loved the very colorful and artistic glow-in-the-dark characters all over the walls and even the ceilings!
They have a fantastic sound system and a DJ booth in a corner! This place rocks!
This would be a great place for a Bat Mitzvah, or Bar Mitzvah, a group event, or even a spooky wedding! You can rent out the whole facility for a very reasonable price!
This would also be a terrific venue for a themed and costumed Monster Bash Disco Party! The ideas are endless with such a great theme going on. The party rooms are decorated with skull chandeliers, and creepy characters.
Monster Mini Golf opened here July 2009!
The owners keep it clean, clean, clean, you will love this place!
Tip: If you go, remember that anything that you wear that is white will glow brightly, so you can have fun and dress up to glow!
Come see a spooky tour!!
From Monster Mini Golf back to Home at www.northfloridafamilyfunguide.com