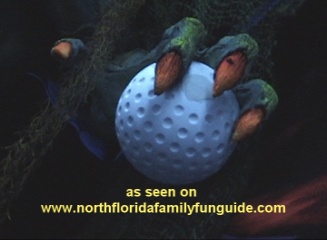 click for Monster Mini Golf Website Spooktacular info!


Winter Garden, FloridaSpooktacular October!
Golf in costume to win incredible prizes!
This October will be SPOOKTACULAR at all Monster Mini Golf locations! During the month, Monster Mini Golf patrons will have an opportunity to participate in a promotion packed with family fun. At each of our twenty locations nationwide, any visitor who plays Monster Mini Golf in a costume will receive a key that might open one of three locked prize coffins. Inside, local prizes will range from cash, to gaming systems, personal electronics as well as tickets to sporting and entertainment events. In addition, all key holders will be eligible to win a National Grand Prize of $2500 cash and a Powerball or Mega Millions lottery ticket every day for one year! On October 29th between 6pm and 9pm, all key holders will be invited back to try to open the locked coffins. Contest creator and co-founder of Monster Entertainment, Christina Vitagliano says, "Last October we had a tremendous amount of people who participated. The chance to win fantastic prizes for simply having fun was quite appealing to our customers. Plus, our monster theme offers an additional opportunity to wear their favorite costume during the Halloween season."
Monster Mini Golf, licensed by Monster Entertainment, is based in Providence, RI and currently has twenty seven locations either open or in development in RI, MA, CT, OH, PA, IN, FL, CA, GA, NJ and NY. Monster Mini Golf offers 18 holes of indoor, glow-in-the-dark, mini golf, full of harrowing hazards, kooky creatures and playful monsters. With retro hit music pouring out of their own radio station, visitors are also able to play arcade and redemption style games, glow in the dark air hockey and more. Whether you are celebrating a birthday or teen party, hosting a business event, presenting a charity fundraiser, planning a zany wedding or simply have a large number of friends, Monster Mini Golf features two, very posh private party rooms. It's climate controlled and frightfully fun for all ages!
For more in-depth information, please feel free to visit monsterminigolf.com.
CONTACTS:
Marty Farrell Monster Entertainment 401-374-3240 marty@monsterminigolf.com
Christina Vitagliano Monster Entertainment 401-454-8100 christina@monsterminigolf.com