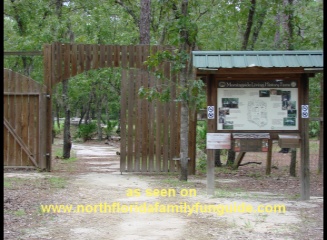 Morningside Nature Center - Gainesville, Florida
Morningside Nature Center
3540 E University Ave
Gainesville, FL 32641-6057
(352) 334-2170
www.natureoperations.org
Morningside Nature Center combines a Nature Center and a living farm for a variety of interesting educational opportunities throughout the year.
Visit their Living History Days, where the Living Farm comes alive with staff interpreters that will show you what life was like on a rural Florida homestead farm in 1870. You can watch live demonstrations as they make biscuits, fresh butter,taste samples and more!
The biggest festival of the year is the Farm and Forest Festival. This festival brings history to life with costumed artisans demonstrating music, sheepshearing, blacksmithing, spinning, weaving, woodstove cooking and more. Horse-drawn wagon rides, games, crafts and heritage animal demonstrations!
The Nature Center is a great place to bring your group for a hands on living history learning experience with some live creatures, bones, fur, shells, artifacts, and more! Skilled Nature Guide and Historian, Merald Clark, will walk you through life as a Timucuan Indian, how they lived, what they ate, and more!
Bryan loved this place, and we brought them a snakeskin to be identified that Bryan found. The staff were very kind and wonderful. This is a great place to bring your whole family!
For more information, please call 352-334-3326or visit www.natureoperations.org
Come see a tour!:
From Morningside back to Home at www.northfloridafamilyfunguide.com