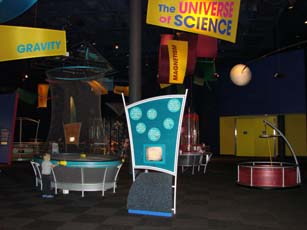 Museum of Science and History (MOSH) in Jacksonville
MOSH-Museum of Science and History
1025 Museum Circle
Jacksonville, Florida 32207
(904) 396-6674
Jacksonville's Museum of Science and History is a fantastic adventure for your whole family. We had such a good time and learned a lot too!
They have totally revamped the museum over the past few years, and have built a wonderful hands on museum that helps explain physics and physical science to kids.
They also have a new living science area that has Florida native animals such as turtles, frogs, lizards, snakes, and even owls.
Adjacent to the lobby they also have a treehouse fort play area for little ones, which includes a waterfall structure the kids are encouraged to play with.
Tip: Get the annual pass, which will get you in all the Florida museums for the whole year!
Check out the video below!
BONUS!
MOSH Jax has just opened up a new exhibit called "The Body Within"!
It's one corridor long, but packed with fun, interactive , interesting displays designed to teach kids all about how the human body systems work. Learn about the nerves, the eyeball, the heart, the stomach, the bones, the muscles, the skin, and more! A really great addition to an already great children's museum!
We left at the end of the day, with our astronaut ice cream and our earth beach ball purchased from their very cool gift shop, and we had a ball!


Dino-Roar Exhibit Update!
Cool Dinosaur animatronics on display now through September 2009!
Come see the video: