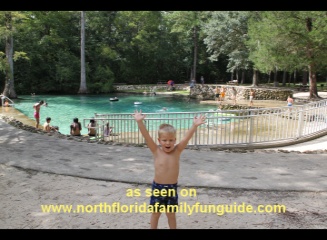 Ponce de Leon Springs State Park - Ponce de Leon, Florida
Ponce de Leon Springs State Park
2860 Ponce de Leon Springs Road
Ponce de Leon, Florida 32455
Phone: 850-836-4281
floridastateparks.net/poncedeleonsprings
There is no better place to swim in the Florida Summertime than the fresh clear cool water of Florida's natural springs.
Ponce de Leon Springs State Park is one of those wonderful places. It is a wonderful fresh, clear swimming hole and picnic area located in Ponce de Leon Florida.
It features a coquina reinforced swimming area with a cement slab jumping platform, and stairs leading into the swimming area. There are 2 nature trails, and a creek for fishing.
Snorkeling , swimming and picnicking were the most popular events happening when we were there.
The park is clean, and well kept, with a newly renovated restroom facility.
Come see a tour!:
From Ponce de Leon Springs back to Home at www.northfloridafamilyfunguide.com