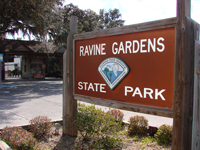 Ravine Gardens State Park - Palatka
Ravine Gardens State Park
1600 Twigg Street
Palatka, Florida 32177
Phone: 386-329-3721
Take in the beauty and tranquility of Ravine Gardens State Park in Palatka!
Park in the parking lot outside of the front gate and entrance fees are only $1 a person!
The park is a large kidney-shaped ravine, with a spring fed stream running through the basin. It has sandy foot trails with stone steps, safety railing, and two newer suspension bridges offering beautiful vistas of the basin. There is a 1.8 mile asphalt path around the rim of the ravine, if you prefer to stay on the path, but the real fun is to find your way through the footpaths, and cross the suspension bridges, and discover all that there is to see.
If you go in March, you can see the abundance of azaleas blooming throughout the park. They have an Azalea Festival In March of every year, it's a wonderful time of year to visit!
There is a formal garden area made out of stone and coquina, with a gazebo, and picnic areas, and restrooms throughout the park.
What a wonderful idea for a Sunday picnic with your family!