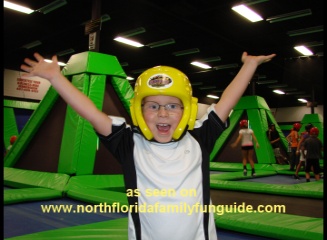 Rebounderz Planet Jump - Longwood, Florida
Rebounderz Planet Jump Inc.
480 South Ronald Reagan Blvd.
Longwood, Florida 32750
http://rebounderz.com
Rebounderz Planet Jump is an A-mazing fun and fitness play center for the whole family. You and your family will get the workout of your life and have so much fun at the same time!
This facility has a 7,000 sq. foot trampoline room with trampolines on the walls too! You can literally bounce off the walls!!
This brand new unique one-of-a-kind jump facility is the only one in Florida!
They have 4 party rooms, an arcade, a living room lounge area, with leather couches, flat screen television, FREE WI-FI, and a fabulous upscale cafe' with a tiki bar serving fresh smoothies. The menu looks awesome!
This is the perfect place for parties, events, birthdays, corporate team building, and moms night out! They offer CardioRobics classes, and Team Sports events like Dodgeball!
Bryan was having the time of his life bouncing around like a kangaroo, trying to do flips and flops and bouncing off the walls. It is such a big workout he needed several breaks to rest, then went back at it.
Safety is #1 here and every participant needs to fill out a waiver before playing, as it is very physical. There are referees to keep an eye on things, to make sure people are playing safe.
Every jumper wears a soft helmet to protect their heads, and special soft jumping shoes to protect the trampolines and to give good traction.
This was so much fun to watch. Everyone was having a blast!
We will be back soon!
Come see the bouncy tour!
From Rebounderz Planet Jump back to Home at www.northfloridafamilyfunguide.com