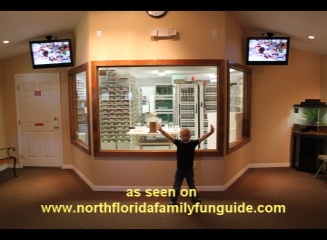 Reptile Discovery Center - Deland, Florida
Reptile Discovery Center
Medtoxin Laboratory
2710 Big John Dr
De Land, FL 32724
(386) 740-9143
www.reptilediscoverycenter.com
www.Medtoxin.com
If you like reptiles, and are fascinated by poisonous snakes, you will love the Reptile Discovery Center and the Medtoxin Laboratory!
Located in Deland, this unique Serpentarium houses hundreds of venomous snakes from around the world. Daily shows provide visitors with an up-close view of owners Carl, and Denisse, working closely as a team, milking the venom right before your eyes.
Outdoors on the Discovery Trail, we tagged along while Denisse fed many species of turtles, tortoises, several iguanas, and two big alligators. There were several picnic tables on the Discovery Trail, perfect for a large group or scout troup visiting the center.
Back at the Serpentarium, there were walls of venomous snakes basking in their perfectly adapted individually enclosed secure environments.
We loved to see the displays of the snake skeletons, and learn about the structures of the head bones and fangs.
At 3:00, visitors gathered into the Medtoxin Laboratory, when Carl and Denise brought a few friendly snake specimens to give us a closer look! Bryan was delighted! He had pythons crawling all over his body, neck, and hanging off his arms!
Afterwards, the milking demonstration began, and we were just amazed to see the trusting couple systematically work through their safety routines, bringing one poisonous snake after another to the demonstration arena.
There they were wrangled with the help of some long handled snake tools, and brought to the latex topped, glass vial for a bite. You can actually see the fangs go into the top and the venom dripping into the vial below. It was fascinating!
The snake venom is then sold and distributed to medical laboratories around the world, who work with this venom to create Anti-Venom, or Anti-Venin (veneen), as it is also called, to then be distributed to hospitals and administered to snake bite victims.
The Anti-venom, actually binds to the venom in the snake bite victim, and removes it from the victim's body. Powerful, life saving stuff!
Bryan absolutely loved this experience, and I hope you do too!
They have special picnic areas for birthday parties, and different birthday packages to choose from too!
Scouts, school groups, and homeschoolers , I just know you will love to see this!
Come see our photo and video tour, shots of many species of venomous snakes, including some live action video clips of several poisonous snakes being milked before your eyes! :


From Reptile Discovery Center back to Home at www.northfloridafamilyfunguide.com