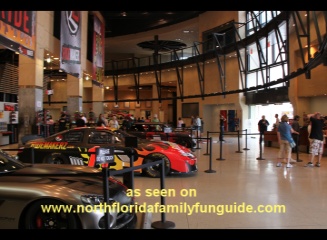 Ridemakerz - Downtown Disney - Orlando, Florida
RIDEMAKERZ®
Downtown Disney® Area
1494 East Buena Vista Drive
Lake Buena Vista, FL 32830
Telephone: 407-938-9223
www.ridemakerz.com
Hours:
Sunday-Thursday 10:30am-11pm
Friday-Saturday 10:30am-12am
This is the cooooolest newest fun place for kids and parents who love cars !! It is a custom build your own toy car shop that has recently opened in Downtown Disney Area.
You can almost watch the kid's jaws drop as they walk into this mega toy car factory, everywhere you look is eye candy.
The concept is simple, choose any chassis, which includes the basics, and then you can customize and upgrade tires, engines, decals, accessories. You can even turn your toy car into a remote controlled unstoppable customized machine, and race it on their racetrack with other model car builders, to see which one is the best!
Assembly areas are provided, including lots of help from Ridemakerz staff. Powered tools are available in the assembly garage area to help customize your ride.
Plans are in the works to offer birthday parties, and more, so check out their website for updates.
Very cool concept, and we will be back to make our custom car in the very near future!
Thank you Ridemakerz!
Come see the tour!:


From Ridemakerz back to Home at www.northfloridafamilyfunguide.com