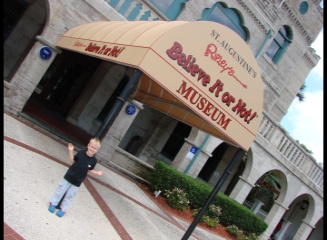 Ripley's Believe It Or Not Museum- St. Augustine, Florida
Ripley's Believe It Or Not Museum
9 San Marco Ave
St Augustine, FL 32084
(904) 824-1606
Inside this museum, is some of the weirdest, wackiest, unusual, quirky, strange, and rare artifacts you will find anywhere!
The Ripley's Believe It Or Not Museum, in St. Augustine, is packed with interesting things to see for all ages.
My little guy was intrigued by the cow with 6 legs, which opened up a whole line of communication about how life works, and how sometimes things go wrong.
His favorite area was the optical illusion exhibits. It was so much fun to see him experience an optical illusion and watch as he could not believe his own eyes! Then it was fun to explain it to him, and you could see the learning taking place.
The bridge through the swirling tunnel made you feel like falling over, when, in fact, the bridge was completely stable, and it was a visual illusion. Bryan had an interesting session with this bridge, over and over, trying to overcome the sensation of wanting to lean over and hold on to the rails.
He was intrigued by the wax model of the tallest man in the world, and the biggest man in the world. This bizarre collection of extremes got him thinking and expanding his thinking.
I love this place for what it is, and also how it inspires some really neat conversations with your loved ones too!
The gift shop was very large and full of really interesting things! I was impressed with the variety, quality, and uniqueness of many of the things for sale!
I think kids and adults of all ages will appreciate the unique collections of Ripley. This has got to be the most unique museum ever!
Come see the video tour!