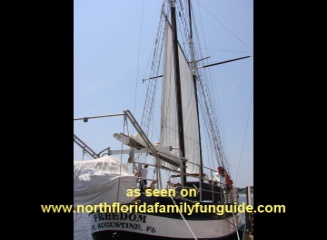 Schooner Freedom Sailing Charters - St. Augustine, Florida
Schooner Freedom Sailing Charters
111 Avenida Menendez
St Augustine, FL 32084-4402
(904) 810-1010
www.schoonerfreedom.com
Bring your family and out of town guests to an amazing day-sailing adventure on the Schooner Freedom Sailing Charters in St. Augustine. The ship is very clean, and the sailing is smooth, and comfortable, heading out of the St. Augustine Municipal Marina.
We saw dolphins and manatees, parasailing, jet skiing, and more!
Schooner Freedom Sailing Charters offers day sails, evening sunset sails, and ghost sails, where they tell pirate stories and have some fun.
The Schooner Freedom is 72' long, double masted, gaff-rigged, topsail schooner, and is an authentic replica of a 19th century blockade runner.
Your family will love the friendly staff, and the complimentary cold beverages that are offered throughout your sail. The kids might get the chance to pull on some ropes, raise the sails, and maybe even steer the ship under the careful watch of your captain and crew. They even have a real cannon on board just in case pirates come about!
Our day was perfect, with sunny skies, and smooth waters, friendly crew and fun passengers. I highly recommend this adventure for you and your family!
Come see a tour:
From Schooner Freedom Sailing Charters Back to Home at www.northfloridafamilyfunguide.com