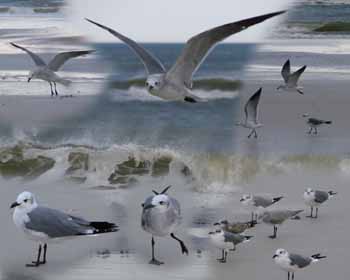 Sea Friends at the Beach
One of our favorite free things to do is to go to the beach and feed the seagulls. We love to go to Matanzas beach in St. Augustine, just North of the Matanzas bridge. The sand there has an abundance of soft white sand, not the coquina shell type you find further south.
The shoal is very shallow there, which makes it the perfect beach for small children to play in the shallow tide pools and waves. In the summer there is a fee to drive your car onto the beach, but off season, you can still access the beach by car for free.
Bring lots of bread crumbs and the seagulls will be your friends! You may get lucky and see some dolphins in the waves, pelicans skirting the surf, and the shrimp boats a few miles off shore.
Look closely in the sand as the waves pull back and you will notice the little crablike "sand fleas" that feverishly dig their way back into hiding before the sandpipers find them.
A trip to the beach is a great way to just relax and soak up the sun, and enjoy a peaceful day with nature!