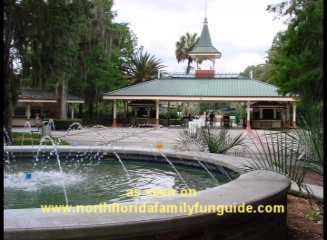 Silver Springs Nature Park- Silver Springs, Florida
Silver Springs Nature Park
5656 E. Silver Springs Blvd.
Silver Springs, FL 34488
Telephone: 352-236-2121
www.silversprings.com
Silver Springs Nature Park has a unique combination of family friendly entertainment to please everyone!
Alligators, flamingos, otters, birds of prey, tortoises, and the Florida Panther, are just some of the interesting Florida wildlife you will see here!
River boat tours departing daily, give you a glimpse of the real Florida habitat on the river, where you might see turtles, fish, heron, cormorants, aninghas, otters and others in their natural habitat.
Bryan's favorite was the glass bottom boat ride. Capt. Oscar was our riverboat Captain. He has been a Silver Springs employee for 40 years! Congratulations Capt. Oscar!!
Bryan loved to see through the glass bottom boat, and look through the water into the crystal clear springs. He saw many species of fish, turtles crawling on the bottom of a 55ft deep spring, turtles sunning themselves on a fallen tree log, Aninghas drying out their wings in the sun, Cormorants diving in the water trying to catch their lunch. It was very peaceful and enjoyable for both of us.
Silver Springs is a Nature Park with Florida wildlife, and it also has another Children's play area that a petting zoo called the Kid's Korral, it has real giraffes, a large bear exhibit, a carousel, kiddie boat ride, and a jungle gym to keep the little ones happy.
Silver Springs is also a major concert venue with headline concerts all year round!
There is more to do here that can be done in one day. You can get an annual pass if you live locally, or an annual pass that includes Wild Waters Water Park that is immediately next door for more family fun.
We had a very nice time, and hope to visit again in the near future!
Come see a Virtual Tour:
Fall Festival at Silver Springs Oct 2, to Nov 1st, Fr, Sat, Sun. Click Below for details!
Fall Festival - Scare Free during the day , and Fright Nights at night!