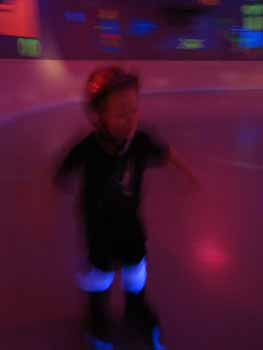 Roller Skating at Skate N Shake in Ormond Beach!
Skate & Shake250 N Us Highway 1. Ormond Beach, FL 32174 386 672 8500

View Larger MapSkate & Shake is a family favorite of ours. Bryan just loves to go there on a Saturday or a Sunday, and get out there on the rink. The music is fun, and the black lights make your white clothes glow. They sell flashing necklaces and accessories and glow in the dark things to really make a fun statement.
They really put on a good show there at Skate & Shake. They have rink games like the dice game, races according to ages, and more. Toward the end of the session they have everyone get in a circle and do the chicken dance, and then the hokey pokey. The kids all have a great time, and Bryan gets a workout!
What could be better??
Check out the video!
Bonus Video! Limbo Baby!