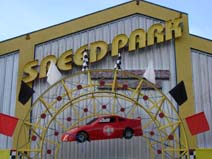 Go-Karting at Speed Park Motorsports in Daytona Beach
SpeedPark Motorsports
201 Fentress Blvd
Daytona Beach, FL 32114
Phone: (386) 253-FAST (3278)
When you feel the need for speed, this is the place to do it! Tucked behind the corner of Fentress and International Speedway Drive in Daytona Beach, is a much loved venue for Go Karts and birthday parties!
They have 3 different tracks with 3 different complexities and height requirements. They have 2 dragsters you can race together on a track for the ultimate gforce experience!
Inside there is an amazing arcade, and a party room upstairs for birthdays!
Bryan, 4, and his older brother who is 20, enjoyed the same event together!
Check out the Video!