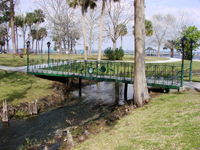 Spring Park - Green Cove Springs
What a charming downtown country park, featuring natural springs bubbling up , and filling up a public swimming pool, then trickling down a waterfall, feeding a winding creek back into the St. John's River. Seagulls and ducks were everywhere, so bring lots of bread crumbs!
A beautiful gazebo overlooking the walking pier and the waterfront, has a trail leading to a wonderful children's park, that was very clean and well maintained.
Azaleas were blooming everywhere, and picnic areas were abundant. We took a walk up the pier, out over the St. John's River and saw the giant cruise ships over the water at the Clay County Port.
A lovely spring day at Spring Park!