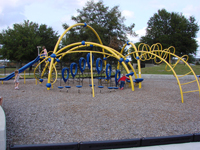 Trailblazer Park - Sanford
Trailblazer ParkLake Mary Sprots Complex550 Rantoul Ln.Lake Mary, Fl 32746
Sanford should be proud of this new park called Trailblazer!
This park has it all! Splashpark, playground, and shaded picnic areas, plus interesting things like a rock wall and 2 outdoor exercise bicycles for mommies to get some exercise in too, while watching the kids play!
The jungle gym, is very unique and challenging. Something new to explore and learn. It has interesting curves and twists and challenges kids to weave throughout it's contemporary architecture.
The Splash park looks fun!