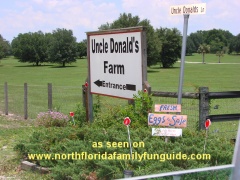 Uncle Donald's Farm - Lady Lake, Florida
Uncle Donald's Farm
2713 Griffin Avenue
Lady Lake, Florida 32159
www.uncledonaldsfarm.com
Tuesday - Saturday 10AM-4PM
352 753 2882
Uncle Donald's Farm in Lady Lake Florida is a very kid friendly, family oriented petting farm that is very popular with the locals!
This place is perfect for field trips, school groups, club groups, birthday parties and more. There is plenty of room here, with many picnic tables set up, to accommodate a large crowd comfortably. Pony rides are available for children for only $2.50 each!
The Country Store, called "Aunt Wanda's Mercantile" is loaded with kid friendly fun souvenirs to buy, including buying a paper bag full of wool from their own sheep for $1. How cute!! They sell t-shirts, and toys, and all kinds of neat country themed things. You can even buy farm fresh eggs daily!
Here you can buy pizza, and ice cream, soda, juice, candy, and more.
The farm is home to about 300 animals both domesticated and wild. There is a whole section of wild animals including a Florida Panther, gopher tortoise, red shouldered hawk, great horned owl, baby deer,an iguana, and even baby alligators. These animals are rescued and have been given a home here for all to enjoy.
Bryan loved the baby goats, and the rabbits. He got a big laugh when he was feeding the chickens. They all scrambled so fast when he threw out the corn for them.
The highlight of our adventure was the hayride out to the cow pasture. We boarded a large hay filled tractor pulled wagon out into the field. When the cows saw the wagon approaching, they all came walking up. We were encouraged to make "hay bouquets" and feed the cows through the safety of the wooden slats on the side of the wagon. Bryan and his new friends really had fun with this. The cows were so gentle,and really enjoyed it too.
On our way through the pasture, we also saw Ostriches, and a Llama.
In the fall this farm comes alive with so many Halloween themed activities. The fun starts at the beginning of October. They have a pumpkin patch and a hay maze, and an added reptile exhibit in the barn for some creepy crawly fun!
They are open for Fall Fun Nights every weekend in October from 7:30-9:30PM for $8.75 per person which includes a night hayride, a "Walk On The Wild Side", the hay maze, the pumpkin patch, and the Creepy Crawly Barn.
This is a great family fun adventure!
Come see a tour!