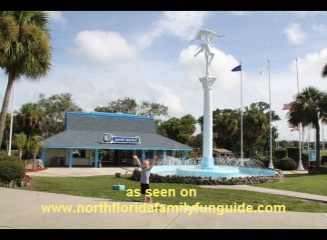 Weeki Wachee Springs State Park - Spring Hill, Florida
Weeki Wachee Springs State Park
6131 Commercial Way
Spring Hill, Florida 34606
Phone: (352) 592-5656
www.floridastateparks.org/weekiwachee
Weeki Wachee is a one-of-a-kind underwater adventure park, that features an underwater spring-fed theater with underwater mermaid shows playing daily.
Bryan was absolutely fascinated by the underwater play, "The Little Mermaid" and he sat quietly through the whole thing. The mermaids perform underwater the scenes of the Little Mermaid story, occasionally getting air through several submersed air tubes. The wicked witch was scary but was defeated in the end!
We went on a short eco-tour boat ride on the Weeki Wachee river, and saw fishes, turtles, herons and more while we enjoyed the ride.
Bryan enjoyed the up-close wildlife encounter with a snake and a baby alligator. He got to pet the baby alligator all by himself!He loved it.
Visitors can rent canoes or kayaks here and paddle up the crystal clear spring fed river for miles enjoying the serene environment.
Next door to Weeki Wachee Springs State Park, is Buccaneer Bay, right on Weeki Wachee Springs, one of the only water parks built on a natural spring fed pool. There are big water slides, white sandy beaches, and covered picnic areas to enjoy your stay. There is a separate fee for Buccaneer Bay, and the days and hours are limited so check their website for details. Here is an example of 2009 dates:
June 8, 2009 – August 30, 2009:Monday – Sunday 10 a.m. – 5 p.m.
August 31, 2009 – September 27, 2009:Monday – Friday: ClosedSaturday – Sunday 10 a.m. – 4 p.m.Open Monday, September 7 for Labor Day
Once a private attraction, the state park's took over operations in November of 2008, this amazing underwater mermaid show has been entertaining visitors, since 1947.
Come see a tour!:
While in the area, here is a great place to play and stay!
Pine Island Park
10840 Pine Island Drive
Spring Hill, FL 34607
(352) 754-4027
In Weeki Wachi, Spring Hill, Pine Island Park is right at the end of a long winding road out to the Gulf of Mexico, this quaint little park has a little cafe' a playground and a beach with wonderful shallow water perfect for little ones.
Mary's Fish Camp
8092 Mary's Fish Camp Road
Weeki Wachee, Spring Hill, Fl 34607
352-596-2359
www.marysfishcamp.net
Mary's Fish Camp, just down the road, is a great peaceful retreat on the river. Located right on Mud River, feeding into the Gulf of Mexico, this is a popular destination for travelling fishermen and families. They rent Cabins, and RV sites, have a dock for your boat and more.
Check out the tour:
From Weeki Wachee back to Best Parks

From Weeki Wachee back to Home at www.northfloridafamilyfunguide.com