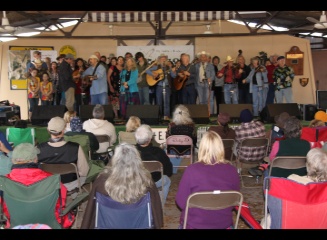 Will McLean Music Festival - Brooksville, Florida
The Will McLean Music Festival
Sertoma Youth Ranch
85 Myers Road
Brooksville, FL 34602-8295
(352) 754-3082
The Will McLean Foundation
P.O.Box 3435,
Dunnellon, FL 34430
http://www.willmclean.com
The Will McLean Music Festival is an Annual event in March that celebrates the life, legacy, and music of Florida Troubadour William McLean. Celebrating his vast collection of songs, stories, and poems, that reflected his love of Florida, and all it's natural treasures, animals, and people.
Will McLean,(1919-1990)his love of Florida and it's history, lives on in the hearts of the people of Florida, who come from miles around every year to hear the songs, performed by Florida's top folk singers and songwriters, who bring his music and stories alive for a new generation to enjoy.
The festival is located in Brooksville, just outside Dade, Florida, near Spring Hill. Situated on the property of the Sertoma Youth Ranch, there are 3 stages filled with performances to enjoy over the 3 day festival. Camping is available and very popular, with water/electric, or rough. Showers/facilities, and plenty of food vendors serving up some fresh fares at very reasonable prices.
Bring your whole family to come and enjoy the peaceful surroundings. There is a playground, and a children's covered tent area with games, crafts, and puppet shows, with plenty of room at the campground to run and explore.
There are many opportunities for Teens to perform at the Azalea Stage and also in the Teen Turf Tent. Singers/Songwriters, musical performances, solo, duo, trio, group, are all welcome!
Bring your instruments and enjoy one or more of the included Acoustic Workshops, offered free with admission, and led by some of the top instructors you will find. Fiddle 1, 2, Harmonica, Bodran, Flute, Fingerstyle Guitar, Hammered Dulcimer, Autoharp, Mandolin, Voice and more!
After the stages close down for the evening, the campsites come alive with their own informal musical performances around the campfires, and all are welcome to join in the jams, or just to listen.
The festival holds an Annual Songwriting Contest and the winners for 2011 are:
1st Place: Ron Johnson, Mary Mathews "Rescue Train"
https://www.youtube.com/watch?v=hAXpAPTmMe0
2nd Place Tie: Frank Julian, "Songs of Florida"
https://www.youtube.com/watch?v=CUNYgCbunqo
2nd Place Tie: Al Scortino, "Something You Should Know"
https://www.youtube.com/watch?v=lTxRDIkhObU
3rd Place: Michael Denney, "Your Florida"
https://www.youtube.com/watch?v=wARUX8x4aXg
All are excellent songs reflecting Florida themes, congratulations to these excellent Florida songwriters!
If you love the music of Will McLean, folk music, Florida history, Florida wildlife, this is definitely the place to be in March! Hope to see you there next year!
Pictures of the Festival:

Will McLean Music Festival Pictures 2010 by Gail Carson

Come see the Photo/Video highlights for 2010:
2010 Dedicated Volunteers - photo by Bill Marder
From Will McLean Music Festival back to HOME at www.northfloridafamilyfunguide.com