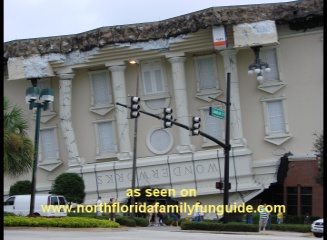 Wonderworks - Orlando, Florida
Wonderworks
9067 International Dr
Orlando, FL 32819
(407) 351-8800
www.wonderworksonline.com
Wonderworks is a hands on science museum geared towards kids 12 and under, however I know for a fact that all ages will love these interactive exhibits.
The outside building is quite an eye opener, it looks as though a building came crashing down on it's roof! You can hear creepy creaking sounds as you enter the front door!
Inside there are over 100 different hands on science exhibits that help explain different aspects of science, such as earth science where several exhibits discuss hurricanes, tornados, and other natural disasters.
They have several visually stunning illusions you can try, that really work. There is a whole suite of electronic gadgets and gizmos that are interactive and teach you concepts of things like blue screen technology. There are exhibits that are just cool physical science, like the pull up chairs using different pulley combinations, or actually laying on a bed of nails.
There is a whole room devoted to space and travel, with lots of buttons to push, and flight simulators, shuttle landing simulators, and even a space suit you can try on. There are roller coaster simulators for those over 48 inches tall, where you can design your own roller coaster track, then virtually experience it. Then there is the Arcade and Lazer Tag!
This place has a lot going on under one roof. In the evenings, people have been raving about the Outa Control Magic Comedy Dinner Show featuring Tony Brent, that is perfect for all ages. This show, priced separately, is very interactive, with lots of audience participation. Dinner consists of UNLIMITED pizza, salad, popcorn, dessert, beer, wine and soda! Some have said it's the best kept secret in Orlando, this experience is that good.
I am sure that you and your family will love Wonderworks, It's like a science museum and a family fun entertainment center all in one!
Come see a tour:
From Wonderworks back to Home at www.northfloridafamilyfunguide.com