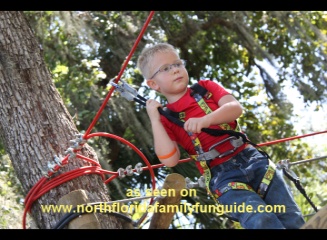 Zoom Air Adventure Park - Sanford, Florida
Zoom Air Adventure Park
At the Central Florida Zoo
3755 N.W. Highway 17-92 at I-4 (Exit 104)
Sanford, Florida
www.zoomair.us
407 330 0767
This is an amazing, fun, outdoor, physical challenge obstacle course that your whole family will love!
Located on the Central Florida Zoo Property, Zoom Air Adventure Park offers 2 treetop obstacle challenges for children , from 36" to 60" and 3 advanced and extreme obstacle courses for adults and kids 13 and older, 54" and above, including a 50ft tall 500ft long zipline!
This fun filled eco-tour gets you and your family out in the fresh air and into the woods, encouraging you to imagine what it would be like to be a monkey, or a squirrel, or lemur, climbing in the trees!
A perfect adventure for scout troops, corporate team building, ROTC, and birthday parties, they can accommodate them all! Picnic tables are strategically placed in a clearing below which allows you to watch and encourage your group as they explore the nearby treetop challenges. A covered rainforest pavilion close by is perfect for gatherings, and birthday parties.
Our team captain, Scott, was one of 12 men working 6 weeks assembling these fantastic treetop courses. He was really great with Bryan and spent a good amount of time explaining the safety rules and how the equipment works. Bryan was a very good listener and learned how to work his 2 safety tethers that were attached to his safety harness. One safety tether has to be attached at all times, while you attach the other tether safely to the red safety cable called a Red Life Line. These devices will catch you if you lose your balance, or slip.
I was so proud of Bryan for finishing both children's courses, the Kid's Upland 1, and the Kid's Jungle Course! He carefully maneuvered over swinging logs, nets, platforms, rope bridges, and more, even navigating over an alligator filled jungle river ( small creek :) ).
I can't think of a better team building, self-esteem building family-friendly business around. This place is excellent. You will love it!
For adults, 13 and over 54" and above, there are 3 courses with increased intensity and challenge. This is not for the faint of heart or for those afraid of heights! Even with the safety harness securely attached, I am sure that it takes lots of courage to complete these eco-tours! The final course ends with a giant rainforest extreme zipline that courses 500ft!
By special reservation they even have a night course for your minimum group of 8 or more. The animals come alive in the woods at night, this is sure to be a very interesting night adventure!
This business is brand New in 2009!
Come see a tour!:
From Zoom Air Adventure Park back to home at www.northfloridafamilyfunguide.com