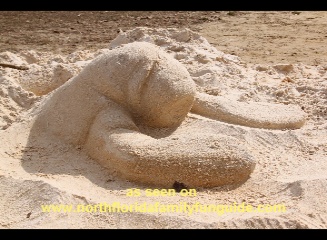 Orange City Blue Spring Manatee Festival - January
Orange City Blue Spring Manatee Festival
Valentine Park
1511 West French Avenue
Orange City, Florida 32774
www.themanateefestival.com
Info@themanateefestival.com
The Orange City Blue Spring Manatee Festival, as of this writing, is celebrating their 25th year!! This 2-day festival is held annually, the 4th weekend of January, at Valentine Park, just down the street from Blue Spring State Park in Orange City, Florida.
We loved the Manatee theme throughout the festival, with artwork, storytelling, crafts, and included bus tours to Blue Spring State Park to see real live wild manatees relaxing in the spring.
One of the main highlights was the Central Florida Zoo display tent which had many interesting things for kids to touch, see, learn about, and do. Well done!
They had a live alligator, a large Pine Snake, and a baby Gopher Tortoise for the children to touch.
The beekeeper who tends to the fantastic live bee display at the Central Florida Zoo was on hand here to sell honey, beeswax candles, and to answer any questions about bees you may have.
There were animal skeletons, and a real stuffed rattlesnake that Bryan was very interested in. There were booths all about the loggerhead turtle nesting season, and all about local birding habits too.
I loved the educational aspect of this festival, to help children learn about wildlife, and the world around us here in Florida, and how to protect them for the future!
They had a fabulous storyteller there who was reading manatee stories to the children, with a manatee puppet, teaching children all about local manatee life in Florida.
There were also bounce houses, games and prizes, arts and crafts, mining for precious stones, music, dancing, and also the world famous frisbee dogs! Everyone had a great time watching the rescued frisbee dogs effortlessly leap in the air and catch the frisbees, much to the children's amusement!
There were many booths throughout the festival, selling arts and crafts, food vendors, fresh squeezed lemonade, fresh chicken gyros, and more! Many of the arts and crafts had manatee themed merchandise too!
One of our favorite things at the festival, were the human hamster balls. I am not sure what the name actually is, but that's what they looked like! For $5, kids can have a turn climbing into a giant transparent inflatable beach ball, where they are sealed shut and can roll around and bump into each other in a giant water filled shallow pool. It was hilarious to see!!!!
The Manatee Festival has the perfect combination of family friendly activities, arts and crafts, games, prizes, animal encounters, and wildlife education and preservation, enough to please the whole family. I hope you get the chance to bring your whole family next year!


from Manatee Festival back to Home at www.northfloridafamilyfunguide.com

See Also : Blue Spring State Park